Chernobyl burning nuclear reactor footage core
TVDATA.tv
Helicopters were loaded with bags filled with sand, boron and other materials to stop and mother the burning nuclear reactor core from above, in 1986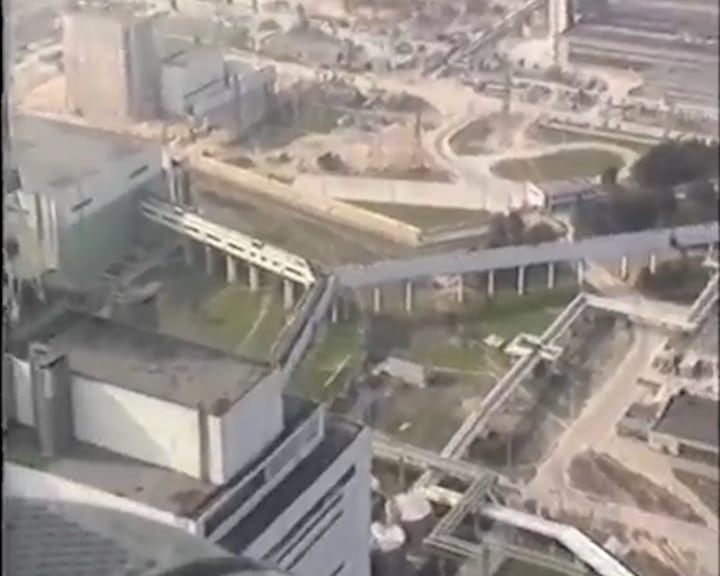 Chernobyl firefighters workers run towards the disaster reactor in an effort to stop the fire and leakage of massive amounts of fatal radiation. At TVDATA stock footage archive we hold various archival and contemporary footage related to Chernobyl and other disastrous nuclear accidents that happened in Russia and USSR.
Chernobyl disaster, Ukrainian Soviet alternative atomic energy massive accident footage. Contamination zone featuring cooling towers disaster area videos.
Nuclear disaster Chernobyl archival stock footage videos.
Engineers in control of nuclear power plant, footage of heavy equipment on another power plant, CHELYABINSK-40 NPP. Interviews and videos on environmental topics featuring nuclear energy production in USSR.
environment, environmental issue, machines, nuclear power, nuclear power plants, people, person, persons, power plant, power plants, radiation, radiation poisoning, reactor, reactors, sustainability, sustainable, plant tower, stock videos
Protective Shell construction for nuclear power isulation.
Scientists and biologists check on plants mutation in a radioactive zone close to Chernobyl nuclear power plant. The nuclear accident took place in April 1986 in Soviet Ukraine. Massive amounts of fatal radiation leaked into the atmosphere… it is an unseen scale of radioactive damage.
1995 archival video Aerial Drone filming Aerial Drone filming for an Automobile company in Russia Baikonur Cosmodrome stock footage Corporate film Corporate film in Russia domestic Drone Drone filming in Russia Elizabeth II in Moscow filming equipment in Russia Filming expedition to Stunning Lake Baikal Filming in KAZAKHSTAN Filming in Russia Filming in Russian Town Rostov Filming in Uzbekistan Filming Sports in Russia Filming Sports in Russian Filming Sports in Russian Town Rostov on Don footage Google AdWords Campaign in Russia Kazakhstan Kiev Mikhail Gorbachev n Kazakhstan opposition possible default rally rostov-on-don round table Russia Russian Film Production Russian Stock Footage Soviet Space Stock Footage Ukraine Ukrainian USSR. Leader искусственный интеллект машинное обучение сверточные нейронные сети. увеличение изображения увеличение изображения на 400% улучшение качества изображений